Just a little over a year after Sammi Star Show, US fans got another chance to see Sammi live at Las Vegas, Nevada, the city of entertaiment and casinos. Hong Kong's Queen of Pop, Sammi, along with guest Nicholas Wu performed in concert at the Mandalay Bay Events Center.
Sammi opened the concert with Everyone is a Superstar. Three giantic screens were on her beautiful face. Sammi did not bring her dancers from Hong Kong. According to Jerry of LA Overseas, all the dancers are from the local Los Angeles area and were trained in two weeks. Sammi wore a long black jacket with furry stuff around the neck.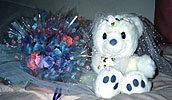 (My presents to Sammi!)
Many fans began to run up and gave her flowers and gifts. I had to run through many security guards before finally reaching the bottom of the stage. As I began to run to the stairs to the stage, a fat guard tugged my skirt but was unsuccessful (ha ha). On stage, I gave Sammi my hand-made bouquet of flowers and also a warm hug. =D
Sammi sang most of the songs from the Sammi Star Show. I was hoping she will sing some recent ones from the Listen to Sammi CD. The newest song she sang was Crying Game. In addition, she also sang two mandarin songs. Nicky Wu sang for half an hour in between Sammi's two half-hours. She ended the night at 10pm with Can't Let Go of You.
After the concert, there was a press-conference and an after-party for the singers and all the production's workers. The CEO of Mandalay Bay also gave Sammi an award for her talented performance. Sammi gave a thank you speech in English but only stayed at the press-conference for about 15 minutes. So here is our one and only picture with her!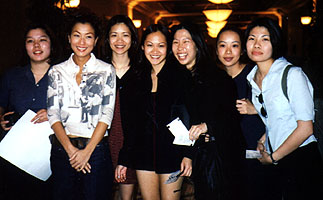 L to R: Huong, Sammi, Doreen, Cindy, Grace, Ada, Cathy